Company Bios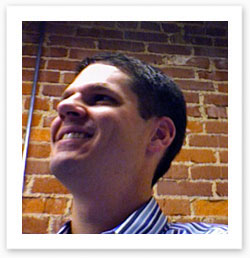 Adam Landrum, Merge president, captured striking or practicing his visionary pose.
Adam Landrum
President, Web Strategist
Adam Landrum, a former Arthur Andersen consultant, integrates his consulting background of working with high-tech public clients in the Southern California region and brings that experience to web development. Landrum developed Merge's Web Strategy which focuses on the most important aspect of developing a web project: the business objectives and how to accomplish those objectives for our clients.
Landrum is a Clemson University graduate, graduating Cum Laude in Accounting. He resides in Mauldin, is married to his wonderful wife Shely, and is the proud father of two boys and a girl.
Scott McGuire
Creative Director
Supposedly Scott has been too busy (uninterested) to provide a polished bio. However, he somehow found the time to set up this glamor shot. Despite the superstar shades, Scott is a regular Joe living in Greenville with his wife and son. We'll get details out of him yet or make something up ourselves.
"This is an adventure."
— Steve Zissou